Last Resort Volunteer Group and PCAK Donate Food For Vulnerable Families In Nairobi's Informal Settlements
Nairobi, April 25, 2020: Kenya Red Cross Secretary General Dr. Asha Mohammed this morning received 57 tonnes of food donated by the Professional Criminologists Association of Kenya and Last Resort Volunteer Group. The handover was witnessed by Ms Jane Karuku, Chairperson of the Covid-19 Emergency Response Fund Board.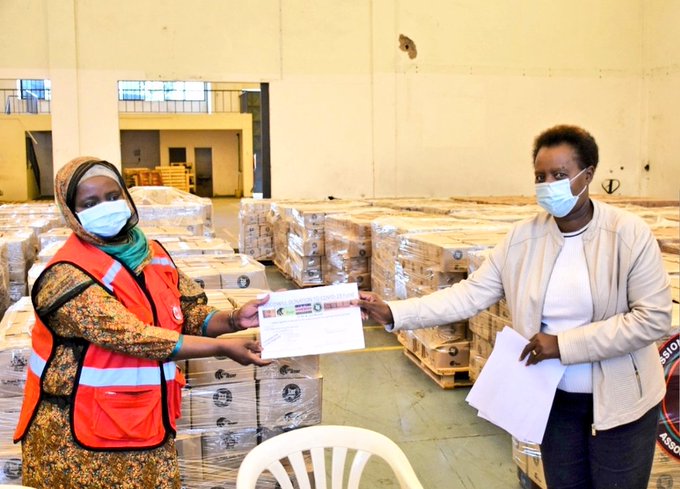 Speaking at the event, Ms Karuku commended the initiative and urged more well-wishers to offer support during this difficult time.
"We are all hoping that we can contain the Covid-19 pandemic quickly so that we can go back to life as normal, but for now we cannot tell how long it will last. We must therefore be prepared in case it takes long," She said.
She emphasized that the role of the Covid-19 Emergency Response fund board was to facilitate an efficient, safe and transparent way to mobilize and utilize resources from well-wishers. She emphasized that her board was quite flexible and welcomed initiatives such as the one by the Last Resort Volunteer Group and the PCAK.
On her part Kenya Red Cross Secretary General Dr Asha Mohammed assured Ms Karuku of Kenya Red Cross Society's commitment to support efforts by Government to contain the spread of Covid-19 noting that this was part of the Society' mandate as auxiliary to government agencies.
Regarding food distribution, Dr Asha said, "the Kenya Red Cross Society has well established mechanisms that have been used to distribute food and other items during other disasters and it is this experience gained over many years that we are using to ensure that only those in need are supported. In the context of the Covid-19 response our approach has been to ensure that both our volunteers and recipients are protected from infection."
The food packed in 9476 cartons each with long shelf life food items was handed over to Kenya Red Cross Association Chairman, Mr. Munene Mugambi on behalf of the PCAK Board. Also present during the event was Patron to the PCAK Trust responsible for the Association's CSR activities, Mr. Pitu Mehta who coordinates the Last Resort volunteer group.